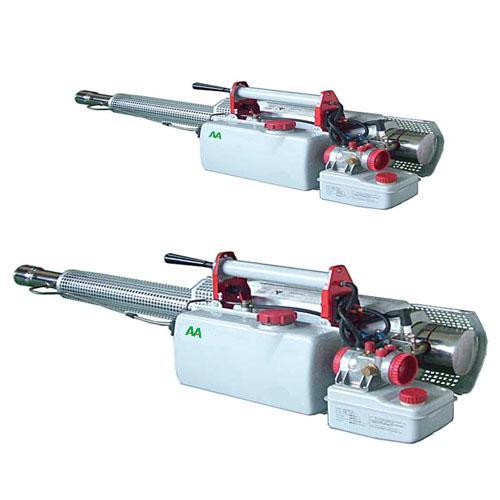 وصف
Model:AM-F02
Feature
For simple starting and operation, the AM-F02is the machine of choice by health ministry, mosquito control departments and disease control departments. Its light weight and ability to produce large volume of fog make it ideal for use in both indoors and outdoors. The AM-F02has proven to be it is an excellent machine where performance, simplicity and reliability are required.
Excellent conformation, working performance is very reliable.
Low noise, ease of operation and maintenance, starting up immediately.
The fuel consume is low, it is up to 1l/h.
Could choose the stainless steel or polyethylene solution tank according to customer's needs.
Fields of Application:
We designed this machine mainly used for small fields of urban environment. It is capable of dispensing oil based fungicides, insecticides, germicides, disinfectants and odour counteractants for application in greenhouses, warehouses, factories, food processing plants, parks, campgrounds, cattle-barns, swine/poultry houses, grain mills, restaurants, hotel complexes, golf courses, and much more. The AM-F02 is also used by Health Ministries throughout the world for controlling mosquitoes that transmit diseases like West Nile Virus, Encephalitis, Malaria, Dengue Fever, Yellow Fever and Chagas disease.
Technical Specifications:
| | |
| --- | --- |
| Weight, empty in kg, approx. | 7.5(stainless steel solution tank) ,7(polyethylene solution tank) |
| Dimensions in mm( L x W x H) | 1330×290×315 |
| Weight, empty in kg, approx. | 11.5(stainless steel solution tank) ,11(polyethylene solution tank) |
| Dimensions in mm (L x W x H),(shipping data) | 1288×310×320 |
| Solution tank capacity in l | 5(stainless steel solution tank), 7(polyethylene solution tank) |
| Fuel tank capacity in l | 1.5 |
| Fuel consumption in l/h, approx. | 1.5-2 |
| Performance of combustion chamber in KW/HP | 13.8-18.2/18.8-24.8 |
| Flow rate with oil in l/h, approx | 8-42 |
| Energy | 4 ×1.5 V batteries |
| Pressure in the solution tank in bar, approx. | 0.25 |
| Pressure in the oil tank in bar, approx. | 0.06 |